Although he is the club captain, Andika has had to accept being second choice to Bryne Omondi, who has proven to be indispensable for club and country before he suffered an unfortunate set back against Russia.
KCB captain Gabriel Andika insists that the team is fully in support of Bryne Omondi as he recovers from an unfortunate ligament and leg fracture injury that he suffered while on international duty with Kenya during their 2-2 draw with Russia earlier in October.
Andika made his first start of the season in Omondi's absence, a 1-1 draw against Ulinzi Stars at the Kasarani Stadium on Saturday, and will now be expected to keep his place for the foreseeable future.
Omondi signed for KCB from Posta Rangers in 2022, and has since gone on to establish himself as both club and country's first choice goalkeeper, consigning Andika to be the club's second choice despite being the captain.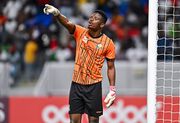 Omondi limped off in the 14th minute after sustaining a fracture and ligament injury on his left leg during Kenya's 2-2 draw with Russia last week.
The former Kenyan international, who was part of the team that lifted the 2017 CECAFA Challenge Cup at the Kenyatta Stadium in Machakos has revealed that he has no real animosity towards Omondi, assuring that the team will support him as he returns to fitness.
"We had someone (Omondi) who was representing us well. I had to accept that I was not the first choice so I had to rally behind him and (as a goalkeeping unit) we had to push him," Andika told Pulse Sports.
"He suffered an unfortunate setback. We have to pick up where he left off. It was a good feeling to play after not a long time."
"Anyone who comes into the team, plays well and gives the team a win, we take it positively."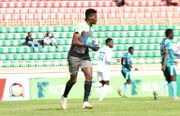 The 26-year-old, who has established himself as Harambee Stars' first-choice goalkeeper, limped off in the 14th minute during the side's 2-2 draw with Russia.
Andika insists that the team must come first before any individuals, which is why he had to swallow the bitter pill of not being first choice anymore by "accepting" that Omondi was "top"
"In football, it is all about acceptance. With the generation that is coming, football is something that you see in broad daylight. They say football is a game of chances. You need to prove you can play well and help give the team a win and at the end of the day, it is about the team and not player.
"Personally, I believe I am very strong mentally and I accept things very easily because football is something you can see."
Andika reveals that the camaraderie between both keepers is top notch, even describing him as "one of his best friends".
"I support Bryne a lot, he is one of my best friends. I have nothing against him considering that he is carrying us right now. Football is about moments. If you are on top, you are on top.
"It is his moment. We have to support him. He is even the first choice national team goalkeeper right now. We can't afford not to support him.
"We are supporting him. We are here to push each other to get better."
KCB currently sit fourth on 12 points, four behind league leaders Posta Rangers. They will face City Stars next Sunday in what is going to be a must-win game for them if they are to soar up to the title-challenging spots.
Follow our Whatsapp channel for more updates.