The 100m and 200m world champion poked fun at Team USA's loss to Germany after being criticised by basketball stars for his 'NBA world champions' jibe
World 100 and 200 metres champion Noah Lyles is on a roll on social media after appearing to have 'the last laugh' as he seemed to be proven right about his comments on NBA stars following their shock World Cup semi-final loss to Germany on Friday.
Lyles irked the likes of Kevin Durant, Damian Lillard and other NBA stars in August after questioning why NBA champions referred to themselves as 'world champions.'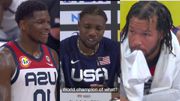 Noah Lyles trends as Germany knocks out Team USA at 2023 FIBA World Cup.
Two weeks after trolling him for his comments, a star-studded team USA lost 113-111 to Germany in a stunning World Cup semi-final loss, prompting Lyles to 'prove he was right' on X, formerly Twitter.
Shortly after the game, two memes poking fun at Team USA's defeat could be found among Lyles's likes, as of Friday night.
The US sprinter also made a post combining the game's final score with an image of Lyles saying, "World champion of what?", but it has since been deleted.
However, his liked posts remain liked. The first depicted Lyles as Marvel villain Thanos with the words, "They called me a madman," while the other showed Shannon Sharpe pointing at something to get someone's attention.
While it appears Lyles may let his likes speak for themselves, the 26-year-old doesn't appear bashful about welcoming the smoke he ignited after suggesting the 'world champion' title is inaccurate because the NBA only plays in the US and Canada.
"You know what hurts me the most is that I have to watch the NBA Finals and they have 'world champion' on their head. World champion of what? The United States?" Lyles said after delivering gold in the 200 metres final.
With many Team USA and NBA fans still in disbelief over Friday's outcome, it'll be interesting to see what players, if any, respond to Lyles this go around after last month's fireworks.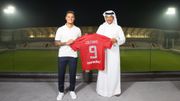 The Harambee Stars captain will link up with the former Liverpool and Barcelona midfielder who has moved to Qatar from Aston Villa