He goes into the race psyched up and ready to gauge where he stands with only 23 days to go for the global event.
Africa's fastest man Ferdinand Omanyala has one more race before he heads to the World Championships slated from August 19 to 27 in Budapest, Hungary.
The 27-year-old is set to fine-tune for the global showpiece at the Josko Lauf Meet in Austria on Saturday, July 29 where he is the fastest in the field. There is no doubt that he will definitely bag top honours in the event.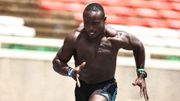 The four-time Olympic champion has high confidence in Africa's fastest man ahead of the World Championships but thinks his biggest strength could also be his main undoing
His closest challenger at the event will be Great Britain's Eugene Amo-Dadzie who is the only other athlete who has run below 10 seconds this season and whose Personal Best time is also under 10 seconds.
The fastest the Briton has run so far this year is 9.93 seconds while Omanyala has managed to run 9.78 so far, though wind assisted.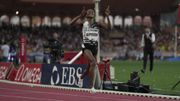 The double world and Olympic champion has raked in big bucks from her record-breaking performances in Florence, Paris and now Monaco
His second fastest time so far this year was 9.84 seconds that he ran to win the Kip Keino Classic in May.
He goes into the race psyched up and ready to gauge where he stands with only 23 days to go for the global event where he intends to make history by becoming the first African to win a medal at the World Championships.
The Commonwealth Games champion opened his outdoor season with a great display at the second Athletics Kenya meet where he won the 100m final race in 9.81, however, his time was not ratified by World Athletics due to a faulty wind gauge.
He then embarked on his international tour in South Africa where he won the two races he was competing in. After his tour in South Africa, Omanyala went for the Botswana Golden Grand Prix where he stunned fans to take home the 100m title.
The Sports Cabinet Secretary is determined to ensure the facilities are ready by the stipulated time with work set to continue even if 2027 AFCON bid fails
After his race in Botswana, Omanyala bagged top honours at the Kip Keino Classic before he began his Diamond League Campaign. He started with the Meeting in Rabat, Morocco where he finished third, and later proceeded to the Meetings in Florence, Italy, and Paris, France where he finished second in both races.
Omanyala then jetted back to the country for the National Championships and World Championships National Trials where he reigned supreme in both.