The four-time Olympic champion has high confidence in Africa's fastest man ahead of the World Championships but thinks his biggest strength could also be his main undoing
American sprint legend Michael Johnson has reiterated his belief that Ferdinand Omanyala will win a medal at this year's World Athletics Championships but feels his body structure could limit him from sprinting efficiently.
No athlete from Africa has ever won 100m medal at the Worlds but the four-time Olympic champion feels the Kenyan has the best possible chance to end that drought among all sprinters currently competing from the continent.
Johnson believes Omanyala's muscular structure gives him power while sprinting but thinks it is also his major undoing even as he continues to post consistent performances at the highest level to get in the best possible shape before the global event in Budapest, Hungary next month.
"Said it before. I believe Omanyala will be the first African to win a 100m World Champs medal. His muscular structure provides tremendous power but do any coaches or sport science experts out there think it could become a limiting factor in his ability to sprint efficiently?" Johnson posed on Twitter.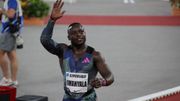 Omanyala secured his first win in the Diamond League after narrowly defeating Botswana's Letsile Tebogo.
It is high praise for Omanyala from the former 200m and 400m world and Olympic world record holder but also food for thought for the Kenyan sprinter.
Johnson's sentiments mirror the concerns of Omanyala's former coach Stephen Mwaniki who identified his style of running as 'weakness' that he feels could even cost him a medal at the World Championships.
"He doesn't need to lose his form running because if you look at him, he is like when he is coming for the finish, he looks like he is destabilising," Mwaniki told Pulse Sports last month.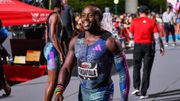 His hard work and unwavering spirit are what propelled him from 10.38 seconds to a sub-10 athlete.
"If you look at Noah Lyles' style of running, you like his continuous running and range of motion, no swinging either side, just attacking and moving straight.
"To be able to run the shortest distance, the best way of achieving it is running straight. So, he has to avoid wobbling and if he gets all these things right, then definitely he is on podium in Budapest," he added.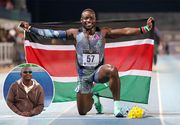 Ayiemba, Omanyala's coach, has revealed how a collarbone injury suffered by the sprint sensation helped convince him into switching to track.
Despite the areas of weaknesses identified, however, Omanyala has maintained his great form, winning his first Diamond League race when finishing first in Monaco last Friday, having managed back-to-back second place finishes Florence and Paris after third place in Rabat.
Africa's fastest man also won the Kip Keino Classic in May and having effortlessly sealed his ticket to Budapest, he has enough time to fine tune his running before the World Championships begin.