Kipyegon outsmarted Sifan Hassan and compatriot Beatrice Chebet to clinch the 5000m world title for the first time in her career.
Double world champion Faith Kipyegon is in a class of her own and she has attributed her success to her coach Patrick Sang.
Kipyegon disclosed that when the year started, her coach injected some words into her that have been her drive throughout the season. It is true to say that Sang's words have worked wonders in Kipyegon's life since she has been able to make great strides in her career.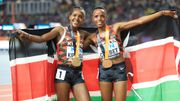 The three-time world,1500m champion added the 5,000m title to her collection to continue a remarkable season while compatriot Beatrice Chebet claimed bronze
Kipyegon started off by breaking the 1500m world record at the Diamond League Meeting in Italy, Florence, and just within that week, managed to break the 5000m world record at the Meeting in Paris. She then broke the One Mile world record at the Diamond League Meeting in Monaco.
Her recent victory was winning the 1500m and 5000m, to become the first Kenyan to win two gold medals at the ongoing World Championships which concludes today.
"Yeah…I think this year has been incredible for me since I started my season and coach Patrick Sang has been encouraging me to always believe in myself, believe in the training and just execute as much as possible as I can.
He always reminded me that this year is the best so far and that's what has kept me going," Kipyegon said during a post-race press conference.
She also lauded the fans for being an integral part of her victory and noted that the environment in the Hungarian capital was incredible.
"The atmosphere out there is really amazing and it pushes you to the finish line. The fans also cheer you up and you feel amazing while competing," she said.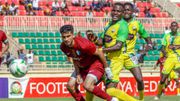 Patrick Odhimabo's charges are taking on the Libyan side, seeking either a victory or a scoring draw to advance to the second round of the competition.
She also lauded competitor Sifan Hassan, who finished second behind her in the 5000m, for showing women that barriers have to be broken. She noted that Hassan running the marathon and winning it in her debut was an incredible feat which is not to be taken lightly.