Kipchoge clocked 2:02:42 to win the race and his time was a bit slower than his world record time which stands at 2:01:09.
Five-time Berlin Marathon champion Eliud Kipchoge was hoping to lower his world record time at the Berlin Marathon but unfortunately missed and instead clocked a slower time.
Kipchoge's world record time stands at 2:01:09 and the Kenyan clocked 2:02:42 to win the 2023 edition of the race.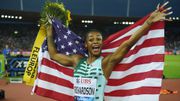 Richardson clocked a world-leading time of 10.65 to win the 100m at the World Championships but she has explained why it was not her perfect race of the season.
He expressed his disappointment towards missing out on the world record but he was also excited to have become the first man to win the marathon five times, surpassing Kenenisa Bekele who had won four times.
In a post-race interview, Kipchoge said: "I was expecting to break the world record but it did not come as I expected.
But that's how the sport is…I have learnt some lessons from this race. I have won but I did not break a world record.
So, I will go back to the drawing board again…every race is a learning lesson."
Kipchoge made his debut in the streets of Berlin in 2013 where he finished second and that was the first and last time he ever missed a win in the streets of Berlin.
He returned to the German capital in 2015 and also reigned supreme. He was also in action during the 2017 edition where he won dominantly before obliterating the world record during the 2018 edition.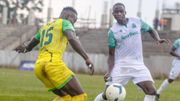 Homeboyz and Gor Mahia share the spoils in a high-octane clash, with Mwinyi's strike cancelling out Omala's opener.
All was not finished for him since he returned to the streets of Berlin during the 2022 edition and lowered his own world record time before winning his fifth title during the 2023 edition of the race.
"It's a special achievement that has ingredients to what I have been doing in Berlin. I missed the world record but something else came in.
I have become the first human to win five times since the Berlin Marathon was first held. I'm happy about that," he said.