The Kenyan youngsters will be hoping to get back to winning ways against Uganda and Nigeria in their next matches
Cricket Kenya Under-19 men's team has registered their first loss at the ongoing International Cricket Council U19 Men's Cricket World Cup Africa qualifier being staged in Dar es Salaam, Tanzania.
In their highly competitive game against Namibia, the Kenyan youngsters could not keep the momentum with the South Africans. Team Kenya won the toss and elected to bat first but were not able to gather enough runs to pose a threat to their opponents.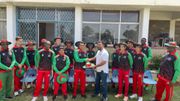 The last time Kenya made an appearance at the World Cup was in 2018 when they finished a disappointing 15th.
They managed 64 runs after 30.4 overs, a target that seemed too easy for Namibia who surpassed it after 16.4 overs. They managed to accumulate 67 runs and won by seven wickets.
Team Kenya had begun their campaign on a good note against Tanzania. However, their match had to be stopped due to the rain and they had to share the points. In their next match against Sierra Leone, the young squad won by four wickets.
Sierra Leone won the toss and elected to bat first. They managed 140 runs after 46.5 overs but Team Kenya were on a mission to victory. They surpassed the target after 40.2 overs after they had accumulated 141 runs.
The young squad heads into their next match a bit disappointed and will be keen to change the narrative. They face off against Uganda on Friday, July 28, and will wrap up their campaign on Saturday, July 29 when they clash with Nigeria.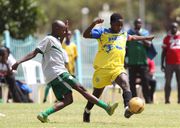 Through the program, FIFA aims at impacting over 700 million children, both boys and girls, across the globe. The program is set to directly benefit over 2,000 schools across the country in Kenya.