Mikel Arteta has opened up on the decision to drop Aaron Ramsdale for David Raya, admitting it left him having a funny feeling in his tummy
Arsenal manager Mikel Arteta has hinted that he will give Aaron Ramsdale alot of playing time, admitting dropping him left him with 'a funny feeling' in his stomach.
Ramsdale lost his place to David Raya during Arsenal's 1-0 win over Everton, and did not play against PSV, leading people to speculate that the Spanish loanee was the new number one.
Arteta has however insisted that "everybody will be important this season" as he answered questions related to Ramsdale losing his place.
" It is very difficult with every player. And I suffer and I care about every player who is not playing, but this is the competition and this is my job to make decisions in the best possible way for the team.
"In your tummy when you have players sitting (out) and you have to announce the line-up, it is one of the hardest things.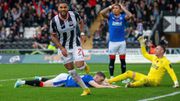 St Mirren's Stephen Robinson praises Jonah Ayunga's resilience and talent, extending his contract as the Kenyan striker nears a comeback.
"Players feel valued and happy when they play. And when they don't, it is very difficult. You want them to feel loved and trusted, and the way to do it is to play them. But everybody understands it is a team sport and it is always 11 players starting.
"But we have seen how important everybody is going to be in the season, and not look back at the team that have played the first six or seven games of the season."
Spurs are second in the league after a five-match unbeaten run, striking 13 goals along the way under manager Ange Postecoglou.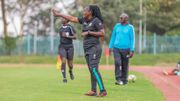 The journalist questioned why Harambee Starlets had never appeared at an Olympic tournament or at a World Cup.
Arteta was full of praise for his rival and their style of play.
"They have a new manager that has done really, really well. He (Ange) has changed the vibe and everything around the club.
"Different style, as well. I really like him. I had players and I know players who had him and they always speak really, really highly of him.
"Obviously that is not a coincidence. You can tell straight away that he is fitting in the right away. That is the beauty of this league we have: top, top managers, top competition and every game is very difficult.
"(We need to) be ourselves and produce the performance we need to beat them."
Arteta confirmed Gabriel Martinelli's hamstring issue, picked up against Everton, is still being assessed but the Brazilian is not ruled out for this weekend.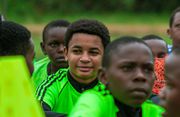 After growing up in Kenya and dazzling with his football skills, the exciting 14-year-old attacking midfielder managed to earn a trial at English club Bristol City.