The Ethiopian long-distance great feels Kenya's Kelvin Kiptum is in a better position to break the two-hour marathon barrier in an open marathon after his world record exploits in Chicago.
Multiple world and Olympic champion Kenenisa Bekele believes world marathon record holder Kelvin Kiptum stands a better chance of running a marathon under two hours.
Kiptum shocked the world when he obliterated Eliud Kipchoge's record by running 2:00:35 in Chicago early this month to become the first man to achieve a sub 2:01 marathon in what was just his third career race in less than a year.
His achievements have left many feeling what was thought impossible, as sub-two-hour marathon, is now possible, and two-time Berlin Marathon champion Bekele feels the 23-year-old has what it takes to do it.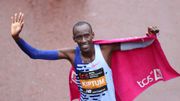 Following Kelvin Kiptum's world record run in Chicago, experts feel he is best placed to run a fast ever sub-two-hour marathon due to a number of factors that give him an advantage.
"I didn't think someone will be running 2:00 hours, or 2:0 something this soon… It surprised everyone," Bekele told Olympics.com.
"No one expected Kelvin Kiptum, a newcomer, to run 2:00 in his third marathon… nobody expected it. But after running like that, maybe he himself can run under two hours next time, or maybe somebody else will come and surprise us."
Bekele expects the marathon times to get even quicker, not only because of the improved shoe technology, but with the influx of younger athletes stepping up to the marathon.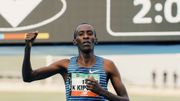 Kelvin Kiptum has finally responded to questions on whether he will attempt the sub-two-hour marathon.
"Marathon training is very difficult. Every day you train long runs in the hard training, so when you are 24 years and when you are 40 years, it's not the same. Recovery wise, the body will not recover easily. When I was 24 years old, I didn't feel any tiredness and my body after one or two hours felt fresh. Now I need more recovery time."
The Ethiopian veteran, who recently ditched NN Running for Chinese brand Anta, is the first and only athlete to be crowned an Olympic, world outdoor, world indoor, and world Cross-Country champion, and was a thorn in the flesh for Kenyan runners on track and cross-country.
Having switched to marathon in the latter stages of his career, he won the Berlin Marathon in 2016 and 2019, missing Kipchoge's world record by two seconds, when he clocked 2:01:41, in the German capital four years ago.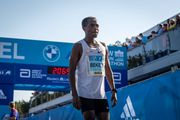 Ethiopian long-distance legend Kenenisa Bekele will now not be under the same stable as Kenyan great Eliud Kipchoge after ditching them.
"I never achieved my maximum effort in the marathon. I've been struggling for a long time with injury. I train hard, but I have never finished all my trainings in a good way because of injury," said Bekele, who will be featuring at the Valencia Marathon in December.
The marathon will serve as part of his preparations for the Paris 2024 Olympics which he feels will be his last.
"My mind tells me that I can still do better in the marathons. I have so many goals. The Olympics is in front of us…maybe [Paris] will be my last Olympics," he said.
Follow Pulse Sports WhatsApp channel for more news.